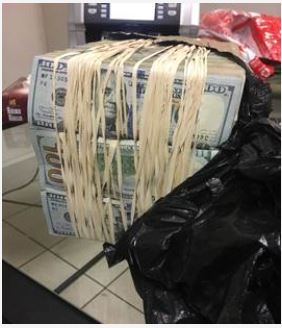 A female student was caught in the process of smuggling substantial amount of money to Hong Kong on Tuesday. Her plans were brought to nought  when the South African Revenue Service SARS customs officers pounced on her while she was boarding a flight at OR Tambo International Airport and found nearly R10-million worth of US dollars in her hand luggage.
On Thursday, the SARS said, "The flight was due to leave when the officers intercepted the passenger on the flight. The passenger' a South African female student' who had boarded with two bags' was then alighted with her luggage."
"Initially' she denied having currency in her possession' but after further questioning' she admitted that she had a substantial amount of money in her backpack.
"Officers led her to the customs search area' where she was placed in an interview room and requested to complete a traveler card. The passenger verbally stated that she had 650'000 United States dollars in her bag. She admitted that she was not the owner of the currency' nor could she supply any proof of ownership."
The student was expected to appear in court on Thursday as the customs registered a criminal case of smuggling cash which was packed in 50 and 100 dollar bundle and failure to declare.