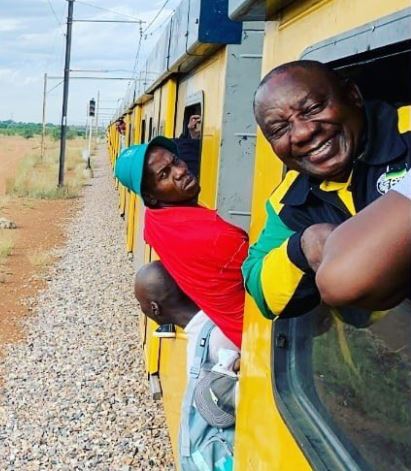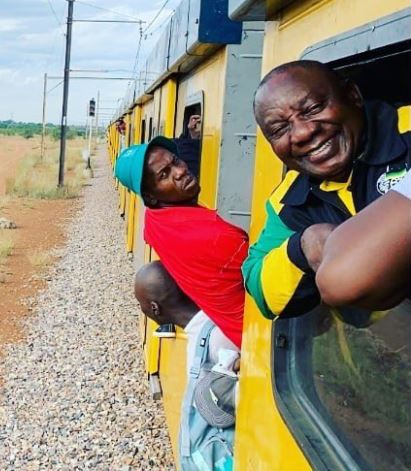 In other to be a victim of what the society experience on a daily basis, President Cyril Ramaphosa decided to campaign from Soshanguve to Pretoria, transporting himself and some of his co-party team on a Metro-rail.
However, Ramaphosa got stuck in an overcrowded train for 3 hours and witnesses imediately took to Twitter to react on what they saw.
While some assumed it was a public stunt, others felt sorry for the President.
Watch Ramaphosa's reaction here:
Tweeps be like:
@CyrilRamaphosa Quick reminder that Metrorail is controlled by the Passenger Rail Agency of South Africa which is completely government owned (before you use this as a political stunt and shift blame away from the ANC)

— Mikikyu (@mikikyutie) March 18, 2019
Welcome to the 'people's world' @CyrilRamaphosa . Except, unlike you, when they are late, they could lose their jobs.

— Daniël Buitendag (@LordKissypants) March 18, 2019
Let him experience what ordinary people face daily !

— Abdi Rahman (@Aogaadh) March 18, 2019
Let's be fair and honest Ramaphosa went to the shosholoza train because he wants votes.. I doubt if there was no election he would have taken that train. We have serious problems than him being stuck in a train. pic.twitter.com/Vp5IHBUZdM

— Bucksy Matlala (@BucksyMatlala) March 18, 2019
South Africa's President Cyril Ramaphosa and ANC National Chairperson, Gwede Mantashe used a public train, a Metrorail train from Soshanguve to Pretoria for the party's campaign. The train was overcrowded and over 1 hour late with no security. pic.twitter.com/HcE03ZebSA

— Africa Facts Zone (@AfricaFactsZone) March 18, 2019