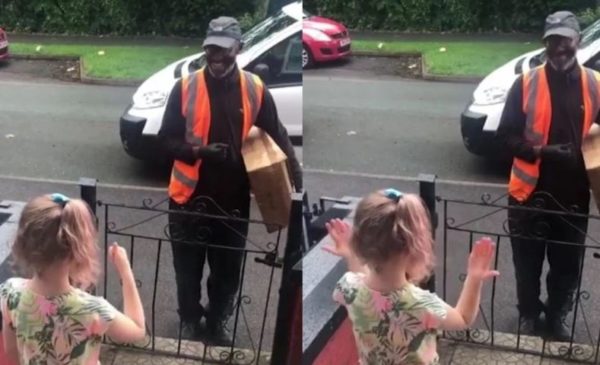 An adorable 8-year-old girl left many people speechless, after a video of her communicating with a deaf man on social-media went viral.
According to social media user Jay Arnold who shared the video, the mail-man is deaf and the girl wanted to be able to speak to him.
So, she learned some words in sign language and waited for the unidentified man to show up with his parcel.
The man seems visibly surprised and happy to communicate with the adorable little girl.
Check out the video below:
She learned to sign so she could speak to the deaf mailman. ❤️

— jay arnold 🎬 (@jadedcreative) July 5, 2020
Why don't we learn from our children?

— Turtle (@Turtle26057064) July 5, 2020
Keep going kid- you're making the world smile!

— Lauren Gabriel (@LaurenGabriel4) July 6, 2020
Just when I thought the world was completely gone to hell, you post this.

There IS a light in the storm

— NCOIC of not much anymore (@JimGawne) July 5, 2020
Frog in throat. Kids are amazing

— randel saunders (@saundu22) July 5, 2020
The world seems awash with bias, hate and threat. A little white girl signing to a deaf black man. This is the kind of world that I want to live in.

— Aeron (@Aeron01494892) July 6, 2020