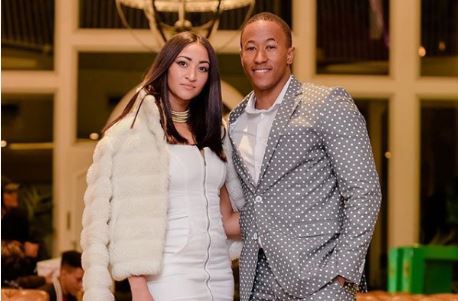 Shantal Dietrich has officially been taken as the popularly actor, Bohang Moeko dropped his knee to pop up the question and guess what, she said 'yes'
Bohang Moeko took to Instagram over the weekend to announce the great news that he had finally popped the question, and luckily for him the woman of his dreams said yes to being his fiancè.
Even though Bohang didn't say much in the post, he revealed the rock on Shanty's finger in what looked like the romantic set up he had when he asked for her hand.
"She said yes!" he captioned the short video clip.
Bohang and Shanty have been serving couple goals for a while.
Not only do they take lots of pics together doing fun stuff, they are both into fitness.
Shanty is a wellness coach and personal trainer.
The Ring of Lies star revealed that their love started on social media in the DM just over two years ago and managed to win her over.
The two have been smitten ever since and are now taking the next step.
But it was only after he saw her on a friend's Instagram Story, that he sent her a DM.
"What happened was, I follow one of her friends, so I was looking at her Insta Story and she happened to pop up in there and I saw the peach I was like: 'hey hey hey' … so I went into the profile, DM'd her. I was like: 'Hey I saw you at the audition the other day' … we talked … eventually we exchanged numbers, it went to Whatsapp, we ended up training together, we went to coffee dates from there, lunch dates, movie dates …"
Watch video below:
View this post on Instagram