Some people cheat on their partners and when the truth comes out, all hell breaks loose.
While some decide to take the high road and move on, others go to extreme measures to get back at their unfaithful partners.
A social media user, on Monday, who has only been identified by his Twitter handle @shange033, shared a photo of the aftermath of an affair.
The image he posted was allegedly taken in Pietermartizburg. The image shows a silver BMW with a message spray-painted onto its hood.
The message read thus:
"Hope she was worth it."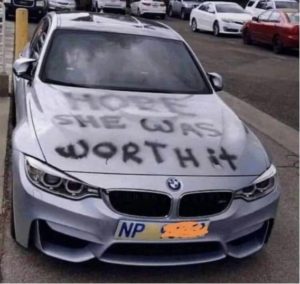 Drama engaka pmb 🤣🤣🤣 pic.twitter.com/kil5EIBFLg

— Sgujana 🧃 (@shange033) July 27, 2020
Although @shange033 did not give out any real details about what led to the incident, South Africans knew some woman had been scorned by her unfaithful boyfriend.
Social media user, @AngeloPhungula, commented:
"PMB is never in the limelight for the right reasons, it's very disappointing nje."
Another tweep, @Nohbuhle, added: "People need to learn emotional intelligence."
Twitter user, @BabaloNdenze, said: "It's their love language."
Social media user, @cazker1, wrote: "You p*ss a woman off and she know where to hurt you!!"
Another tweep, @Dlidlozi, commented: "I'd sue her for damage to property."
Is this behavior really satisfying?
Do you really fee at content after this?

— Mzolisto 👉🏾Amanda💃🏽✨ (@ZolaAmanda) July 27, 2020
Psychos & cars pic.twitter.com/EFooQw5aKn

— TheLifestyleTourist (@ms_tourist) July 27, 2020
🤣🤣🤣🤣🤣🤣🤣If be a mnandi meaning she was worth it, that is paint all u need is go get the car spray painted not the end of the world, an go pick up another chick pic.twitter.com/8bnVOumQqV

— MR DICK (@kabelodick) July 27, 2020