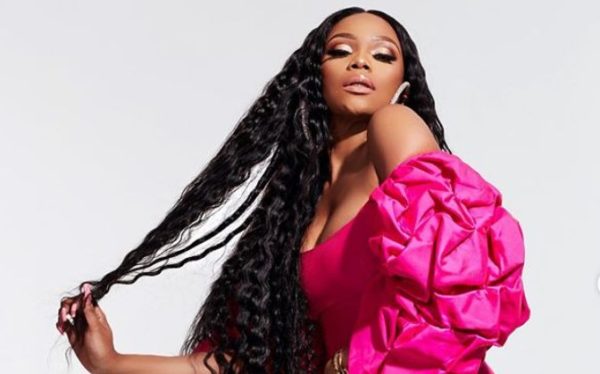 Bonang Matheba bumps into her ex-boyfriend who is a Nigerian artist, Oladapo Daniel Oyebanjo better known by his stage name, D'Banj.
However, Matheba promised some drama and heat with her new reality TV show, A Very Bonang Year, and best believe sis delivered.
Seeing Bonang in her natural habitat, making deals and planning her empire, is something no BForce member wanted to miss.
Part one did the thing the people want more.
In part one of the two-part reality TV show, you see Bonang jetting off to London to premier her very own film.
While that alone is impressive, it was the part where she ran into her ex-boyfriend Nigerian musician D'Banj, that really got peeps attention.
D'banj just happened to be in the same studio as Bonang for a photoshoot on the very same day.
While this was not an ideal situation, Bonang handled it like the classy queen that she is.
However, her fans stood off their seats to applaud Bonang on the way she handled the situation.
Casually greeting her ex like he meant nothing.
Fans took to social media to discuss the moment.
LMFAO SHE WAS DISGUSTED when she saw D'banj 💀😂! #AVeryBonangYear pic.twitter.com/A2FQVG0ClN

— it's not a big deal heyyyyy… (@Mfumo_B) August 1, 2020
Love how Bonang didn't let D'Banj's presence affect her mood. She was so cordial with him #AVeryBonangYear pic.twitter.com/kvzLy8BxB4

— Katlego (@Katlie_B) August 1, 2020
Yoh eish!!! Bonang's face when she hugged her ex D'Banj!!!🤯😳😳#AVeryBonangYear pic.twitter.com/0DCQuUvpaT

— Mam'sotho🇿🇦🇱🇸 (@vuyogqola) August 1, 2020
This is so messy💀 I hope Bonang keeps her cool and doesn't let D'banj throw her off her game #AVeryBonangYear

— Wandee (@LadyWandeee) August 1, 2020