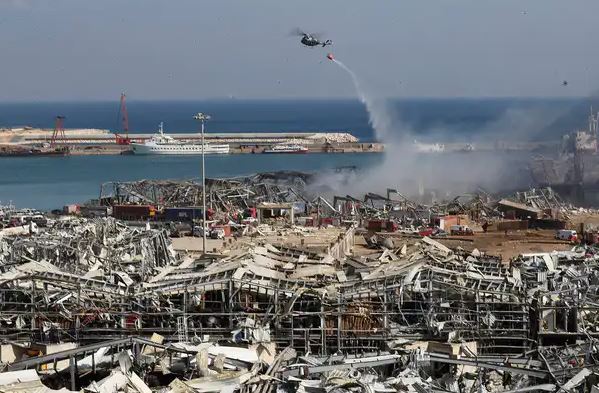 Fire engulfed Beirut Port again on Thursday.
This comes during the time the country is coming out of the down effect of the massive blast that disfigured the capital and killed more than 190 people and left thousands wounded in August.
The black smoke bellowing from the site of fire could even be seen by neighbourhoods faraway.
Haitham, a worker at the port who saw the fire said he took to his heels in fear.
"We were working when all of a sudden they started yelling at us to get out," he said.
"There was welding going on… and a fire broke out. We don't know what happened."
"We dropped everything and started running … It reminded us of the explosion."
According to the interim head of the port, Bassem al-Kaissi, the blaze started in the port's free zone.
This happened when an importer was stocking cooking oil containers and tyres.
The fire "started with oil containers before moving on to the tyres," he said.
"It was either caused by the heat or by a mistake. It's too early to say."
The army reported that it was responding to the fire.
It also confirmed that the fire broke out at a warehouse containing oil and tyres.
"Operations have begun to extinguish the fire and army helicopters will take part," it said on Twitter.
Social media users posted video footage of the fire.
The Army is telling people in the vicinity of Beirut port to evacuate as another huge fire rages. This video is circulating showing workers fleeing the area pic.twitter.com/FxGLhM8Wl1

— Liz Sly (@LizSly) September 10, 2020
Huge fire at Port of #Beirut. Now pic.twitter.com/EnnIritG0e

— Imad Bazzi (@TrellaLB) September 10, 2020