Later this month, Mosimane's men will face off with Wyad Casablanca in the 2019/20 Caf Champions League semifinals and have already won a 42nd league title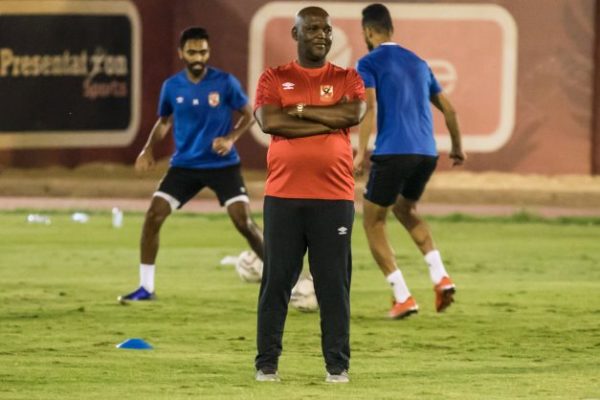 Pitso Mosimane kept his winning record to his reign as Al Ahly head coach as his Red Devils side beat ENPPI 3-0 comfortably, in the Egyptian Premier League on Wednesday evening at the Al Salam Stadium in Cairo.
Marwan Mohsen scored two goals, which put Ahly ahead in the opening 17 minutes and another goal came in from Nigerian striker – Junior Ajayi ten minutes from the injury time which handed Ahly the three points who won a 42nd league title comfortably.
Leave a comment below 👇 if you're going to support the #CHAMP42NS tonight .@TheRealPitso 🦅💪#ClubOfTheCentury pic.twitter.com/IjqEFcmeN5

— Al Ahly SC 🇬🇧 (@AlAhlyEnglish) October 7, 2020
Egyptian striker – Mohsen has received a lot of criticism this season but now has a total of seven goals this season, including the two goals he scored last match.
✊ T-E-A-M—W-O-R-K ✊#CHAMP42NS #WEAreAlAhly pic.twitter.com/1atn0jIlpi

— Al Ahly SC 🇬🇧 (@AlAhlyEnglish) October 7, 2020
1⃣ ➖ ⚽️ إبداع
2⃣ ➖ ⚽️⚽️ جماعية
3⃣ ➖ ⚽️⚽️⚽️ تألق

🔴 #معاك_يا_أهلي
🔝 #CHAMP42NS pic.twitter.com/z6jTgsotZ5

— ‏النادي الأهلي 🏡 (@AlAhly) October 7, 2020