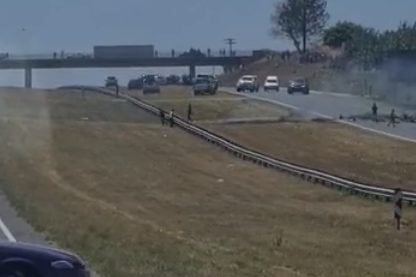 Johannesburg's N14 highway traffic witnessed a brief traffic stop on Thursday following a protest that spilled over from an informal settlement.
A video on the Florida community policing forum's Facebook page showed Motorist making fast U-turn and fleeing against the oncoming traffic.
The protesters were also recorded burning tyres to block both lanes of the highway.
Metro police had to close the highway briefly this afternoon near the Randburg/Zwartkop interchange with Beyers Naude Drive.
However, JMPD spokesman Wayne Minnaar announced that the road has already been reopened to traffic.
Meanwhile, he could not specify the cause of the protest which erupted in Mogale City, outside the JMPD's jurisdiction.
But, an unverified report in the Roodepoort Record stated that the protest was prompted after Eskom cut the power to a large section of Muldersdrift.
The power cut allowed their technicians and the Red Ants to remove illegal power connections at nearby informal settlements.
The police is yet to respond to requests for comment.