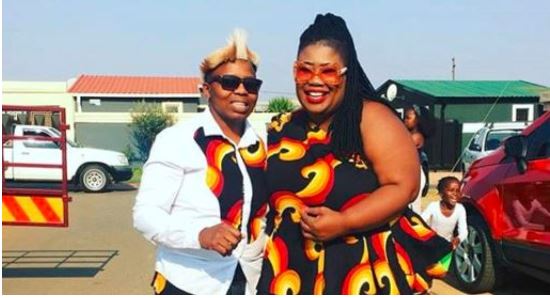 Nomsa Buthelezi is scared that people around her might not accept her sexuality.
According to her, the fact people are yet to accept her and her wife, Zandile Shezi-Buthelezi is really affecting her and she feels they might not understand her.
Nomsa stated that even the security guard at her complex does not like her and her wife just because they are lesbians and she feels they might be in danger.
The couple tied the knot in an intimate traditional ceremony about a year ago and Nomsa is grateful for the support she is getting from her family and friends even if the world is yet to accept her for who she is.
Nomsa said: "I do get a lot of hate from people everyday, but I don't pay any attention to that. Others look at us as though we are not humans. Every single day we are faced with the same treatment even where we reside the securities do not like us, hence the feeling of unsafety. We are just grateful for our families love and support"
"We fully support this initiative as it is the perfect platform to shine the light on same-sex relationships. There are a lot of people who are still trapped in the closet because they fear losing their family members or friends. Living a lie is not going to help them."
It was love at first sight for the couple despite having partners, the moment they laid eyes on each other they knew.
"We got married last year on 28 September. We met in Mpumalanga at Riah and Simphiwe's wedding and it was my first gay wedding. When I saw Zandile, I told my makeup artist there's my type. Then Zandile also noticed me. Then her best friend ran towards our bus and started greeting and kissing me on the cheek.
Nomsa concluded: "After the ceremony, Zandile asked us to join them for the reception. I went back to meet her and her friends. Sometimes I become sad because I've to leave my kids but I taught them to be strong. I was also going through things and I feel God knew what I wanted and I didn't pay attention. Things happened like a miracle and my life changed. There was something different about her. "But I was also very scared because of past relationships."