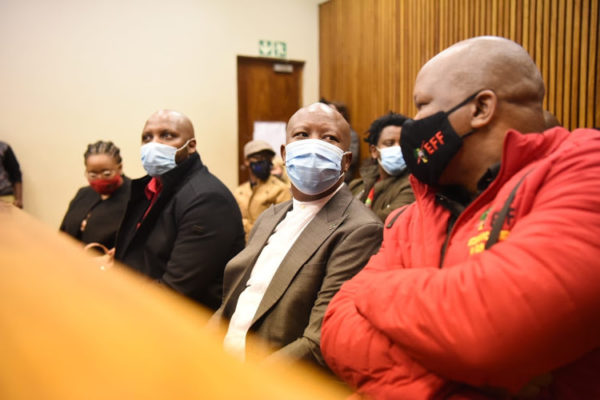 The police officer who accused Economic Freedom Fighters (EFF) leader Julius Malema of assaulting him said Malema pushed him out of the way at Winnie Madikizela Mandea's funeral saying he can not be denied access by a white man.
Malema and his co-accused Mbuyiseni Ndlozi appeared in the Randburg Magistrates Court on the case of assault.
Colonel Johan Venter is the first witness to take to the stand in the assault trial.
It was reported that the men were allegedly denied access when Madikizela-Mandela was being laid to rest in April 2018.
This subsequently led to the confrontation.
However the pair have denied doing anything wrong.
Venter told the court that they were given the duty to only allow cars with the necessary accreditation into the entrance to Madikizela-Mandela's grave.
Venter indicated that Malema and Ndlozi were stopped because the vehicle they were in had no visible permit and they arrived after the official procession.
Venter explained that the first time he was pushed, he did not see who pushed him, but the second time he was sure that they were the ones that pushed him.
He said: "In the second push I saw. They pushed me so hard that I lost my balance."
Venter also insisted that he did nothing wrong to provoke the accused or retaliate.