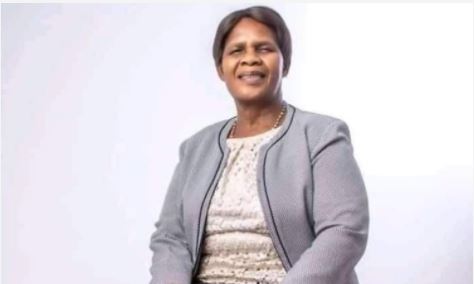 The 65-year-old academic and amapiano star Olpha "Gee Six Five" Selepe has been pronounced dead in the early hours of today.
The said thing about her death is the fact that she recently came into limelight with her hit single Obani Labantu.
The sad news was confirmed by her niece Sbu Mpungose this morning.
"My beloved aunt, MumNcane who many of you know as Gee Six Five, is no more. She displayed leadership throughout her life, was the epitome of fearlessness and inspired many with her single Obani Labantu. Mthiya, Shandu kaNdaba, Sontshikazi. RIP Gee Six Five," she wrote in a short statement on social media.
Recall, few days ago, Somizi plans on having a collaboration with her but it might not be possible because she is no more.
No further details about her death had been made public at the time of publishing this article.
The #RIPGeeSixFive is currently trending on Twitter and many of her fans and other celebrities had taken to their social media to pay tribute to her.
My beloved aunt, MumNcane who many of you know as #GeeSixFive is no more. She displayed leadership throughout her life, was the epitome of fearlessness & inspired many with her single #ObaniLababantu.
Mthiya, Shandu kaNdaba, Sontshikazi. #RIPGeeSixFive pic.twitter.com/NAOHlWlsIp

— Sbu Mpungose (@SbuMpungose) December 9, 2020
See tweets:
Condolences to the families and friends.

Robala ka Kagiso. pic.twitter.com/0fQo7dgFDe

— Tumi Sole (@tumisole) December 9, 2020
I'm sure mom will get a state funeral. Lala ntombendala I know you we still studying, only God knows why He took you so early. Your music career was starting to blossom #RIPGeeSixFive pic.twitter.com/RET02WsK9a

— Gee65 son (@Cebisa_Mhayise) December 9, 2020
This is sad🥺💔#RIPGeeSixFive

— Keabetswe🌬 (@akreana_) December 9, 2020
Death be jealous, again! #RIPGeeSixFive.. You came! You inspired! Now you are resting! 💡 🕊 pic.twitter.com/MW6jeIf0WR

— N U N G U 🧢 (@NunguKaNdlela) December 9, 2020
This world just keeps on taking and taking and taking. Your presence will forever be remembered Shandu kaNdada, ndabezitha, Mthiya othiya ngenkomo abafokazane bethiya ngamahlahla #RIPGeeSixFive pic.twitter.com/Ufacltzi3I

— itskindaReal! (@Vokzman) December 9, 2020