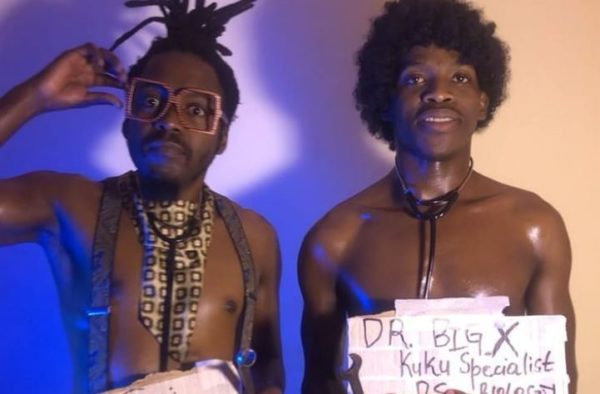 Big Xhosa and iFani collaborated on a song titled ikuku and the music video is out.
iFani trends on social media, as lots of persons expressed disappointment at him for his verse on his song.
Some persons said the upcoming rapper is trying to help revive Fani's career, while a few are scared that the young rapper's career might be destroyed like Fani's own.
Despite the criticisms the song got, very few persons applauded the rappers as they enjoyed the comedy served on the song and in the video.
Check out South Africans reaction below:
Ifani is the sa hip-hop clown🤡 no cap🧢 pic.twitter.com/8GjaM8h9uk

— spinjo the muntu (@Spinjo_sa) June 17, 2021
Ifani is still wearing the glasses without lenses.. pic.twitter.com/jYfRKiftmf

— SAKINA (@SakinaSitoto) June 17, 2021
Ifani doesn't know when to quite… Phela he's making a joke of himself pic.twitter.com/pWwVQYhxum

— spinjo the muntu (@Spinjo_sa) June 17, 2021
"If I see AKA Ima kill myself" 🤣🤣🤣🤣 Wooooah IFani maaan okay Big Xhosa & IFani Song Is Funny Maaan Akufani Shem! I'm Here For The Music Video Mna

— illythehost (@illythehost) June 17, 2021
Ifani fell off now he's seeking relevance ku Big Xhosa

— Nkazimulo Mathenjwa ❁ (@Nkazi_Mathenjwa) June 17, 2021
eish that ifani line though https://t.co/FOHIanfOfI

— AURA ZA 🇿🇦 (@AuraZA_9420) June 17, 2021
Ifani has finally found his younger bro pic.twitter.com/tiC9BYbmD1

— Mzwandile E Jula (@emj8723) June 16, 2021
Big Xhosa and Ifani just gave Hip Hop a life line

— Taka Imolathile noLiphupha (@SirChad_I) June 12, 2021