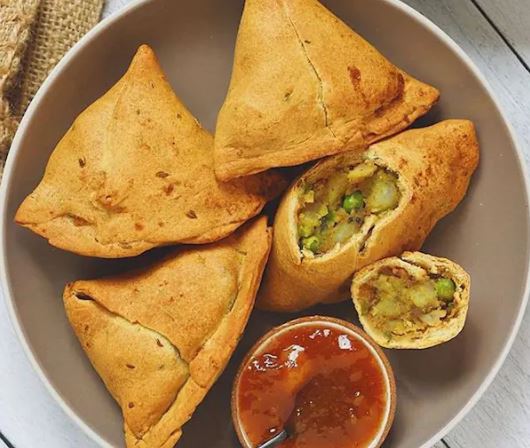 Interestingly, nowadays, one can prepare samosa from the comfort of your home without having to rely on YouTube tutorials.
It is vital to decide on the type of filling to use before starting to cook samosas. Most people like the vegan ones, which require spiced potato, lentils, or peas.
On the other hand, some find meat samosas the tastiest ones. Irrespective of the choice, will you cook the snack given a samoosa recipe?
Normally, the ingredients are divided into two, for:
1. Samosa dough recipe
2 cups of all-purpose flour
½ teaspoon baking powder
2 tablespoon of vegetable cooking oil
2/3 cup water
1 teaspoon salt
Method
In a bowl, pour all the flour and salt and then make a hole in the middle.
Pour water and mix the content using a wooden spoon until the dough becomes sticky.
Allow the dough to rest for 10 minutes then divide it into four parts.
Roll out each quarter into a log-shape and divide it further into three parts.
Now, shape the three logs into balls.
Repeat the procedure for the remaining logs.
Keep all the 12 small balls covered to avoid excessive drying for 10 – 15 minutes.
2. Samosa filling recipe 
2 boiled and ponded potatoes
1 cup of cooked fresh or frozen peas
2 tablespoons of vegetable oil
1 chopped onion
1 teaspoon of finely chopped garlic
1 ½ finely chopped fresh ginger
1 teaspoon of chile powder
½ teaspoon turmeric
1 ½ teaspoon of salt
2 chopped fresh coriander leaves
Directions
Take the boiled potatoes and pound them in a bowl and put them aside.
Heat the vegetable oil in a pan and add the onions and fry until they are golden brown.
Add the garlic, ginger, turmeric, salt, chopped coriander, and chile to the now golden brown onions in the pan and allow them to cook for 2 minutes.
In a separate bowl, combine the mashed potato with the cooked peas.
Finally, add the other already cooked spices to the mixture and mix well before you allow it to cool.
The process of cooking samoosas
Below is how to how to fry samosas:
Assemble the samosas. Pick one of the small balls and roll it into a circle and then cut it by half. Follow the procedure of folding the samosas.
Fill each folded samosa pastry sheets with the fillings from the bowl and seal them properly.
Add the remaining vegetable oil into the frying pan.
Dip several samosas at once into the pan but avoid overcrowding them.
Allow them to cook in low heat until they are golden brown and crispy.
Transfer them into a plate lined with paper to absorb excess oil.
Serve while hot with either chutney or ketchup.
NOTE: The method is similar even when one is using the chicken samosa recipe or beef fillings. Importantly, avoid cooking them in high heat to achieve desirable results.