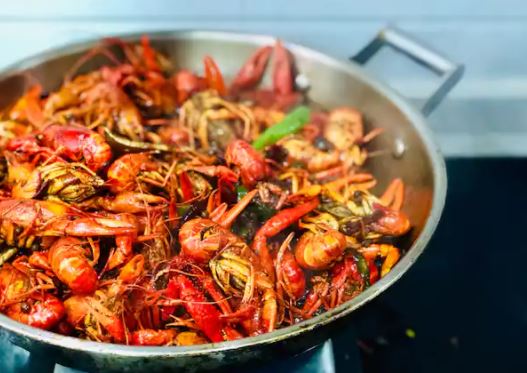 Are you craving for seafood, and especially, prawns? Then you ought to get a prawn dish or learn how to cook prawns at the comfort of your home like a pro.
There are various ways in which you can cook this seafood. It brings us to the best prawn recipes in South Africa.
These methods are convenient since they range from steaming, frying, to grilling.
If you are searching for the easiest prawn recipes, you are in the right place. These recipes will ensure you come up with the most delicious dishes.
Read on to know all the recipes that every South African ought to try out when they are cooking prawns.
The 15 best prawns recipes
Learn how to make prawns using any of these recipes:
The Koliwada recipe entails dipping de-shelled prawns in batter flavored with spices such as garlic, cayenne pepper, carom seeds, ginger, and lime juice. After that, the seafood is fried until it becomes golden-brown.
2. Kerala Fried Prawns
This dish entails frying this tasty seafood in coconut oil and spluttering it with mustard seeds, turmeric, fiery chilies, curry leaves, and lemon juice drop. These spices and rich taste of this seafood will make your lunch or dinner unforgettable.
3. Prawn salads
All you need to do is buy peeled and precooked prawns and add them to your salads. They are perfect for individuals with busy schedules.
4. Garlic Prawns Recipe
The garlic recipe for this seafood entails marinating the seafood in a spicy garlic sauce. It is a very straightforward recipe that makes it a great dish to prepare for large events.
5. Prawn soups
Prawns are excellent types of seafood dishes that can be prepared in soups. They can be featured alongside other famous and tasty soups such as the Thai hot soup and the sour Malaysian creamy laksa.
6. Spicy prawn pizzas
Prawns can also be prepared in a low-calorie pizza, which is spread with tomato sauce and then topped with shellfish, olives, or mascarpone.
7. Prawn spring roll wraps
Roll wraps that have been made using these types of seafood dishes are among the greatest and healthiest snacks one can ever have. One can accompany the rolls with a bit of sweet chili sauce.
8. Spicy Prawns with Sweet Dipping
These entail tossing this seafood with chili, onions, and white wine. They are then elegantly plated and served with a delicious orange marmalade sauce.
9. Prawn Curry
If you have white rice, the best curry you can have to accompany your rice is this seafood curry. To make the curry, take five or six garlic cloves, coconut, onions, and coriander seeds and then grind them until they make a fine paste. Add a little bit of water, the seafood, and cook them through until they are ready to eat.
10. Lemony prawn & pea risotto
Wondering what type of risotto you want to have? Try the lemony prawn and pea risotto. It is among the highly ranked and very delicious seafood risottos.
11. Prawn Pulao
The pulao recipe entails rice that has been beautifully cooked with garlic prawns and marinated with ginger. The pulao is then smeared with a bit of cardamom, clove, cinnamon, chili, and other desired ingredients.
12. Spicy Sriracha Prawns with Basil
If you cannot get enough of spicy seafood, here is another great dish for you to try. It entails cooking fresh de-shelled prawns with several ingredients such as the sriracha chili sauce, green chili, soft basil leaves, crunchy onions, and fish sauce.
13. Spicy prawn poppadoms
The spicy poppadoms of this seafood are among the fastest canapes that one can ever make. However, it is better to eat them right after cooking them so they won't become soft.
You can use the irresistible and delicious flavour-full coconut milk or shredded coconut to add more flavour to your prawns. If you select a recipe that entails using coconut milk, you must make sure to serve it with a lot of steamed rice so that it can soak up all the tantalizing sauce.
15. Guilt-Free Karwari Prawns
Most people may argue that they would not like to learn how to fry prawns because the frying experience adds to their waistline. However, we cannot deny the fact that fried prawns have a divine and unique taste. The guilt-free Karwari recipe entails frying the seafood to ensure that it is crispy. The seafood is coated in tamarind water, lime juice, fennel powder, turmeric, and then dipped in suji. It is a healthy way of enjoying this fried seafood. Therefore, do not worry so much about your waistline.