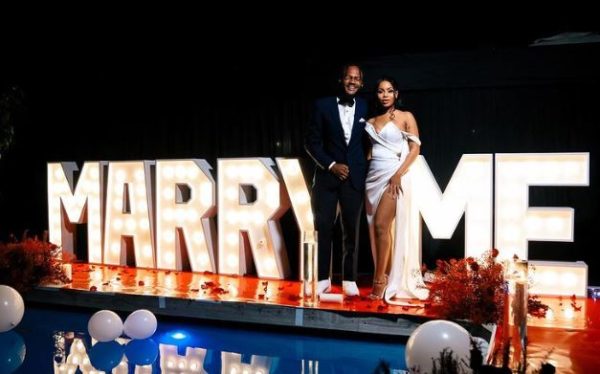 Kwesta has been accused of cheating on his wife, Yolanda after proposing to her a second time.
The internet shook last week after the rapper gave his wife a classy wedding proposal.
However, lots of social media users assumed that the rapper was asking for a second chance as he must have been cheating on her.
Few hours after their proposal surfaced on the internet, a Twitter user reported that Kwesta was cheating.
Videos and photos of the rap star with his side chick were shared and he got seriously dragged by tweeps.
"Kwesta is dating Nthabiseng who lives in Mbombela. It is said they always hook up when Kwesta is gigging around Mbombela," the tweep said.
Did you know that Kwesta also has a song dedicated to his side chick Nthabiseng? pic.twitter.com/KnYMNGLUrE

— Musa Khawula (@MusaKhawula) June 24, 2022
A look inside the secret life of Kwesta with his girlfriend Nthabiseng who lives in Mbombela.

Kwesta is cheating on his wife Yolanda Vilakazi and is said to always spend his time with Nthabiseng when he gigs around Mbombela. pic.twitter.com/cKhGv5cshg

— Musa Khawula (@MusaKhawula) June 24, 2022
Though, Yolanda claimed that Kwesta did a second wedding proposal because the first one wasn't top notch.
"I'm Zulu so my husband honoured my parents when he asked for my hand many years ago. He sent a letter and paid lobola. Then gave me the ring. Years later he did the membeso, umbondo, white wedding and umabo. Last night was him giving me the proposal he feels I never got. That's all! Yes we married," she explained