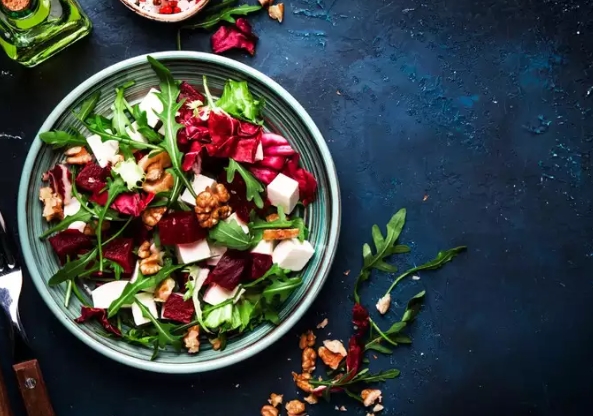 With its dark crimson red colour and earthy flavours, beetroot, also called beet is packed with numerous benefits.
Right from increasing haemoglobin levels and providing a natural glow to the skin to aiding the digestive process and keeping a check on blood pressure, beetroots can effectively benefit your body.
Beetroot is a low-calorie vegetable and also one of the richest sources of folate (vitamin B9).
Here are 3 simple recipes that will help you add beetroot to your daily diet without any fuss.
Ingredients required- 3 cups of curd, 1 beetroot, ½ onion, ½ carrot, 1 tsp roasted cumin powder, ½ tsp dried mint powder and rock salt as per taste.
Method-
In a bowl, add curd along with roasted cumin powder, dried mint powder and rock salt.
Use a whisk to smoothen the curd.
Add all the veggies to the whisked curd and give a mix.
Serve the Raita with Roti-Sabzi and enjoy.
Ingredients required- 1 beetroot, 100 grams paneer, 3 tbsp olive oil, juice of 1 lemon, ½ tsp black pepper powder, 2 garlic cloves, 1 tbsp vinegar, handful of lettuce leaves and salt as per taste.
Method-
Boil or steam the beetroot until tender. Just cook it enough to make it softer. The beetroot should not be mushy and must retain its shape.
Now peel the beetroot and chop it into bite-size pieces.
Take a plate and layer it with some lettuce leaves.
Place chopped beetroot pieces on it along with diced paneer cubes.
Now take a small bowl. Add olive oil, lemon juice, black pepper powder, minced garlic cloves, vinegar, and salt in it. Whisk to make a marinade.
Pour this marinade on the salad and toss a bit to coat all the beetroot and paneer cubes.
Your Beetroot Salad is now ready to be served.
Ingredients required- 1 beetroot, 1 carrot, 1 orange, 1 tbsp lemon juice and rock salt as per taste.
Method-
Peel the beetroot and roughly chop it into pieces. Also, chop the carrot and peel the orange.
Use a juicer to juice out the beetroot, carrot and orange.
If you don't have a juicer, you can blend all the ingredients in a blender and later strain the juice.
Mix in lemon juice and rock salt as per taste. Give a mix and serve the Beetroot Juice.