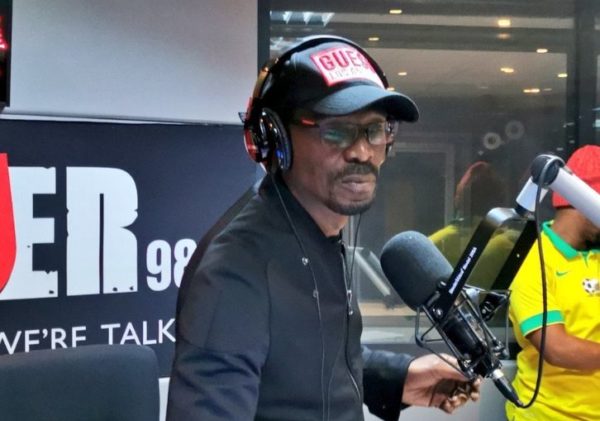 South African entertainment industry and the country as a whole lost another legend, Radio veteran Bob Mabena on Monday, 10th of August, 2020.
SABC News broke the news on social media, and many were left shattered by his passing.
"It is with deep grief and pain that we announce that POWER 98.7 Breakfast Host, Mr Bob Mabena passed away this afternoon, Monday 10 August 2020, from cardiac arrest. The family is coming to terms with his passing and respectfully requests the public to afford them the appropriate space. Further details will be communicated in due course," Power FM(his employers) said in a statement.
Mzansi stars flood social media with tributes, while a lot of people couldn't help but the spill the shock and heartbreak the news caused.
Bob passed on at age 51.
Bob Mabena. He raised me in South African music. 💔 RIP pic.twitter.com/Hg9C6hjLb2

— Khaya Dlanga (@khayadlanga) August 10, 2020
Damm Rest In Peace to the legend Bob Mabena 💔 2020 ke msunu ‼️Bob was one of the first radio Djs I heard pushing the hip hop movement 🇿🇦 pic.twitter.com/Iy5mjdrrav

— 16 (@L_Tido) August 10, 2020
Bob Mabena? Bob, Bob as in Bob Mabena? The Jammer? 2020 cut the G-funk era just like that? No, a re leseng once! 💔💔💔💔

— Rami Chuene🌈🏳️‍🌈 (@ramichuene) August 10, 2020
Rest in peace grootman. I gave you all your flowers while you were still here. Thank you for the inspiration. Condolences to your family, friends , collegues and all your loved ones. Bob Mabena is the reason why most of us got into entertainment. Love you always big bro 🙏🏿 pic.twitter.com/X2TlCG5e2M

— #MPAMBANE (@djsbu) August 10, 2020
As soon as we thought this year couldn't get any worse… Bob Mabena passed away 💔 #RIP Mr Mabena.

— #QueenSono (@PearlThusi) August 10, 2020
I carry news of Bob Mabena's passing with a heavy heart. The Jammer, you lived life & wrote your history. I remember Gumba Bash at MEDUNSA, when you & Dr Khumalo brought the house down with "Get Funky" hit! Lala ngoxolo. So hlala sikukhumbola 💔 pic.twitter.com/M14tirq8h3

— LegendLive (@OskidoIBelieve) August 10, 2020
Wow! Kgomotso! Wow! Did you really just leave us? You just slept..for eternity? What must happen now #BobMabena pic.twitter.com/3KXLSKQevI

— Redi Tlhabi (@RediTlhabi) August 10, 2020
February 2020..#UbuntuAwards
He was co-MC, I sat at the judges table & b4 any greeting to the President or other dignitaries his first words on the mic, "Hawu Madluphuthu..!!" He knew how much I revered him as a broadcaster!! The Jammer!! Radio Superstar!! Kanjani?💔#BobMabena pic.twitter.com/GDKmZQlFzJ

— robertmarawa (@robertmarawa) August 11, 2020
When I figure out what to say, I will say it. It was a relationship of over 20 years, 3 radio stations, our children, a shared love for Black radio, discussions about both our disappointments in it, robust discussions about where it should go, and love. I'm gutted. #BobMabena pic.twitter.com/G5k0uoYhp2

— Kgomotso Moeketsi (@KGMoeketsi) August 11, 2020
Good Night my brother, sleep well grootman. #TheJammer #BobMabena pic.twitter.com/vX12bi3JZ6

— Julius Sello Malema (@Julius_S_Malema) August 11, 2020
Radio is silenced! This man for me is radio!!! Thank you for the lessons! Thank you for the dream! BOB MABENA! AN ERA 🙏🏾🙌🏾 pic.twitter.com/LFYQHgy7kL

— Thando Thabooty (@Thando_Thabethe) August 10, 2020
Tonight I join the many South Africans, the media fraternity, and the family & friends of Bob Mabena in mourning the loss of one of our greatest icons. #RIPBobMabena pic.twitter.com/hQcyBBP0zy

— Cyril Ramaphosa 🇿🇦 #StaySafe (@CyrilRamaphosa) August 10, 2020