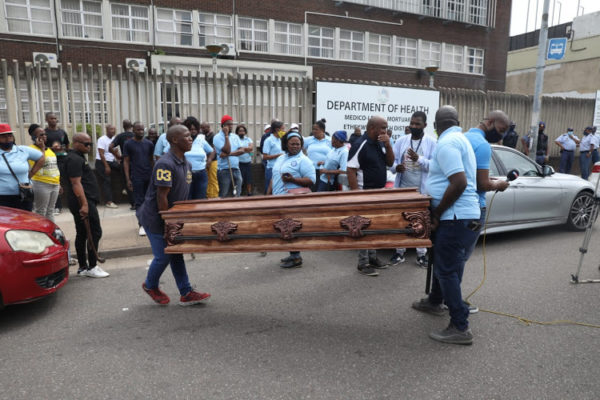 The Unification Task Team commenced a three-day strike called by the funeral and undertaking sector.
The task team is using this medium to demand land from the government so that smaller undertakers can build its own facilities.
The National Funeral Practitioners Association of SA (Nafupa) directors also want the the outsourcing of mortuary facilities be recognised and legalised.
The task team made it known that the government must collect corpses from hospitals and homes while they embark on their strike.
Thousands of funeral industry employees have downed tools on Monday in light of the protest.
They have decided to not collect corpses from both government and private hospitals as well as homes.
Some Nufupa protesters demonstrated at Chris Hani Baragwanath hospital.
Kgomotso Langa, a UTT member said "our government is not listening to us, that's why we have decided to shut down for the following three days,"
"We are advising the community and the public at large, to call the forensic [services] so they can go and pick up the bodies at home."
Langa stated collection of bodies from residences is actually a government responsibility.
Funeral parlour directors also want the municipal by-laws to be amended to enable cluster storage.
The department says funeral parlours must be in possession of a valid competence certificate and inspections will continue.