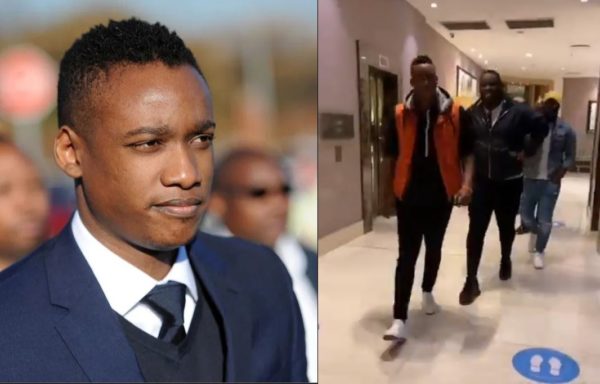 Former South African president's son, Duduzane Zuma is no doubt the star of this week.
He has managed to keep his name on the lips of social media users due to his walk.
Videos of him walking have gone viral on social media, and most people gushed over it.
Some men even expressed their fear on social media, with claims that his walking style might get their women carried away.
It was also believed that he could win a presidential election, with the way he walks.
After days of gushing over his walk, South Africans finally jumped on the challenge, and there's been hilarious videos on Twitter.
Check out below:
Man Of The Match #duduZanechallenge 🙌🏾🇿🇦🤣😂 pic.twitter.com/yBofufcOsu

— MR MAKHADO ungam'ncishi (@rikyrickworld) December 5, 2020
#duduZanechallenge @Engen We on them like🔥🔥🤘 pic.twitter.com/Y8S9CBkaB6

— ZamokuhleMdluli (@Zamoh_Okuhle) December 5, 2020
My buddy fucken nailed #duduZanechallenge pic.twitter.com/rCfITCWk42

— Christian Madzivhandila (@Chris_AwesomeZA) December 5, 2020
#duduZanechallenge the bodyguards for me🤣 pic.twitter.com/5uvdECPCut

— Samuke Nxumalo (@NxumaloSamuke) December 5, 2020
Hope we ain't late for#duduZanechallenge 🤣 pic.twitter.com/YUEkzSkdee

— Mvee_c_saw (@Siso_ka_Mavuso) December 5, 2020
Decided to make my brother join the #duduZanechallenge 😂😂😂😂 pic.twitter.com/9fM9b5zeED

— Khanyisile Khumalo (@khxkhumalo) December 5, 2020