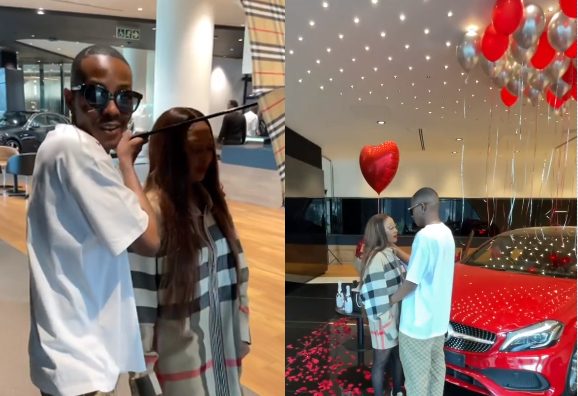 Themba Selahle a.k.a Grootman's proposal to his lover, Gcinile Twala has caused an outburst of mixed feelings on social media.
The businessman surprised the make-up artist with a Mercedes Benz worth half a million rand on her birthday; he also proposed to her at the same venue, which is a double celebration.
Photos and videos of the heart-melting event went viral on social media, but it didn't put a smile on most person's faces, as some persons called Themba out for his atrocious deeds.
According to talks on mzansi Twitter, the businessman had scammed people and it's believed that the money was used to buy his fiancée's gift.
Check out video and reactions below:
Grootman closed the county↘️🇿🇦#grootman pic.twitter.com/tWVVnlVnX4

— Lil.kayte (@lilkaytetv) February 3, 2022
If it wasn't for my R1500 contribution, none of this would've been possible 😂😭🙆‍♀️. #Grootman hela o lepara laity! #Scammer https://t.co/A2HKHHKeL9

— IG: @namiie_mocwane09 (@NamIie0009) February 3, 2022
Grootman understood the assignment. Scam people and spoil imama #grootman pic.twitter.com/skS7QA4Hoj

— M. 🍉 (@_Moratoa) February 3, 2022
Please imagine your money contributed towards buying Gcinile's benz cash 😭😭😭 I'd pull my hair out #grootman pic.twitter.com/8gCBulDlBL

— Chi is for Chipi (@momoo_chiii) February 3, 2022
Imagine having my boyfriend scam people just to spoil me 😭? Gangster love this #grootman

— Miss Julio (@ViolettaJulio) February 3, 2022
🤦💔 Congrats, Am I supposed to regret why I contributed R4900? I'm not asking for refund though✌#grootman pic.twitter.com/1H8BN6cCPv

— Dlamini💯 (@DlaminBright) February 3, 2022
Our girlfriends must not see the posts of #grootman or else we are in trouble for valentine's day gifts 😭😭🤭 pic.twitter.com/9jXDl7UQL9

— Fratello Croc 👔👕🧥👞 (@CrocSclothing) February 3, 2022