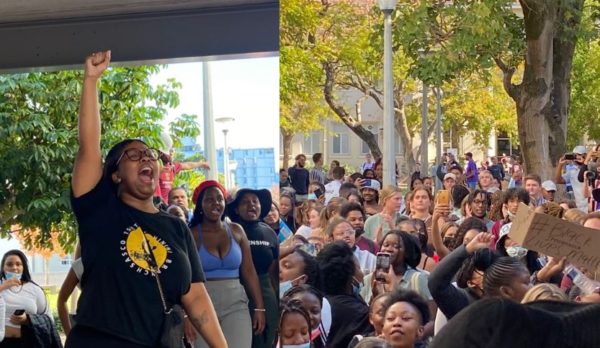 A white student of Stellenbosch University has been called out for being a racist after he was caught urinating on the belongings of a black student.
The video revealing the hideous act has gone viral on social media, and students have started protesting against the white student.
Netizens are irked by the video and they need answers as it's reported that racist attacks have occurred several times in the university with less severe punishment given to the offender.
The school responded by announcing that an investigation has started but many got angry by the response as they expect the student to be expelled.
Check out the video and reactions below:
#StellenboschUniversity this blatantly racist should be suspended in all institutions for the next 5yrs https://t.co/xL5ap2gHL2

— Nkosiqinisile Mtshali (@mtshaligugu) May 16, 2022
The #StellenboschUniversity video is appalling and disgusting behavior, I can't believe we live amongst such cruel individuals, esp in this day and age, absolutely inhumane.

— Michsawarii (@MichelleSawari) May 16, 2022
#StellenboschUniversity the incident happened on the 15-05-2022 at 4am, the victim of this racially motivated attack was sleeping. The young man was just sleeping 💔

— Simangaliso (@Wanda_Smash) May 15, 2022
At this point there needs to be a #StellenboschUniversity shutdown until there has been an expulsion criminal charges laid. https://t.co/wFHYgzW9AW

— Reverend Xanadu (@mugishahh) May 16, 2022
Absolutely disgusting! Why the need for a drawn out "investigation" @StellenboschUni? It's all on camera! This barbaric blatant racist behaviour warrants expulsion AT THE VERY LEAST! His parents should be ashamed! This kind of racism is taught in the home! #StellenboschUniversity https://t.co/SZgmn50mif

— Kaylee Folster (@kaylee_hewitt) May 16, 2022
WE WANT HIM EXPELLED! #StellenboschUniversity pic.twitter.com/TrSeil9Jar

— 𝒮𝓀𝒾𝓃𝓃𝓎.𝓌𝓌 🐉💕 (@itsnotCeebu) May 16, 2022
Racism is a choice. It's deliberate. It's not coincidental so please let's not make excuses for that white racist boy by stating he was drunk!#StellenboschUniversity

— Kamo Paris (@kamoparisxx) May 16, 2022