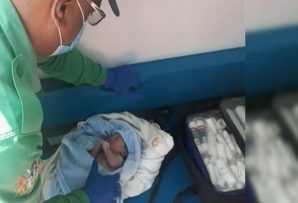 On Saturday, few hours after a baby was born, she was found lying in a pit toilet in Mafakathini.
Thanks to community members who heard her cries from a pit latrine and were able to rescue the newborn.
"Police officers at Taylor's Halt were alerted after members of the community heard the cries of a newborn baby emanating from a pit latrine," said SAPS spokesperson Jay Naicker.
"The police's search and rescue unit responded and assisted the community in rescuing the child from the pit latrine."
The mother of the child who is around the age of 16 years was suspected to have dump the baby in the pit latrine.
However, the baby and her mother have been transported to Northdale Hospital and are reported to be recovering well.
"Police officers opened a case of concealment of birth at Taylor's Halt police station and handed over the docket to the Plessislaer Family Violence, Child Protection, and Sexual Offenses Unit, who are investigating the circumstances surrounding the incident," Naicker said.
The relatives of the baby decided not to make a comment about the case yet.